Regular price
Sale price
€15,00 EUR
Unit price
€333,33
per
kg
Sale
Sold out
The name of these candles, Dancing Candles, derives from their organic, curved shapes that are reminiscent of gentle movements. They are designed and made by ZENZI Objects as a growing series that reflects a natural aesthetic. Here you can purchase the ZENZI Objects Dancing Candle 01.

Designed and made by ZENZI Objects in Berlin. The sculptural candles are first poured into moulds before being individually hand-finished for the final touch. Small irregularities such as colour and texture variations are part of this process and characterise them as handmade pieces. For optimal stability and presentation of the candles, we recommend the iron candle holder from our shop.
Only natural waxes. Choose from two options for your candles:
Warm Yellow – made from pure, unadulterated, yellow beeswax
White – made from pure, unadulterated, bleached white beeswax 
Wick: cotton
Dimensions: approx. 17 cm x 2.2 cm x 1.5 cm
Weight: 45 g
Burning time: approx. 10 h

Made to order. Each ZENZI Objects candle is individually made to order, therefore production can take 4 working days. 
Please read the instructions for candle care and safety, listed below.
View full details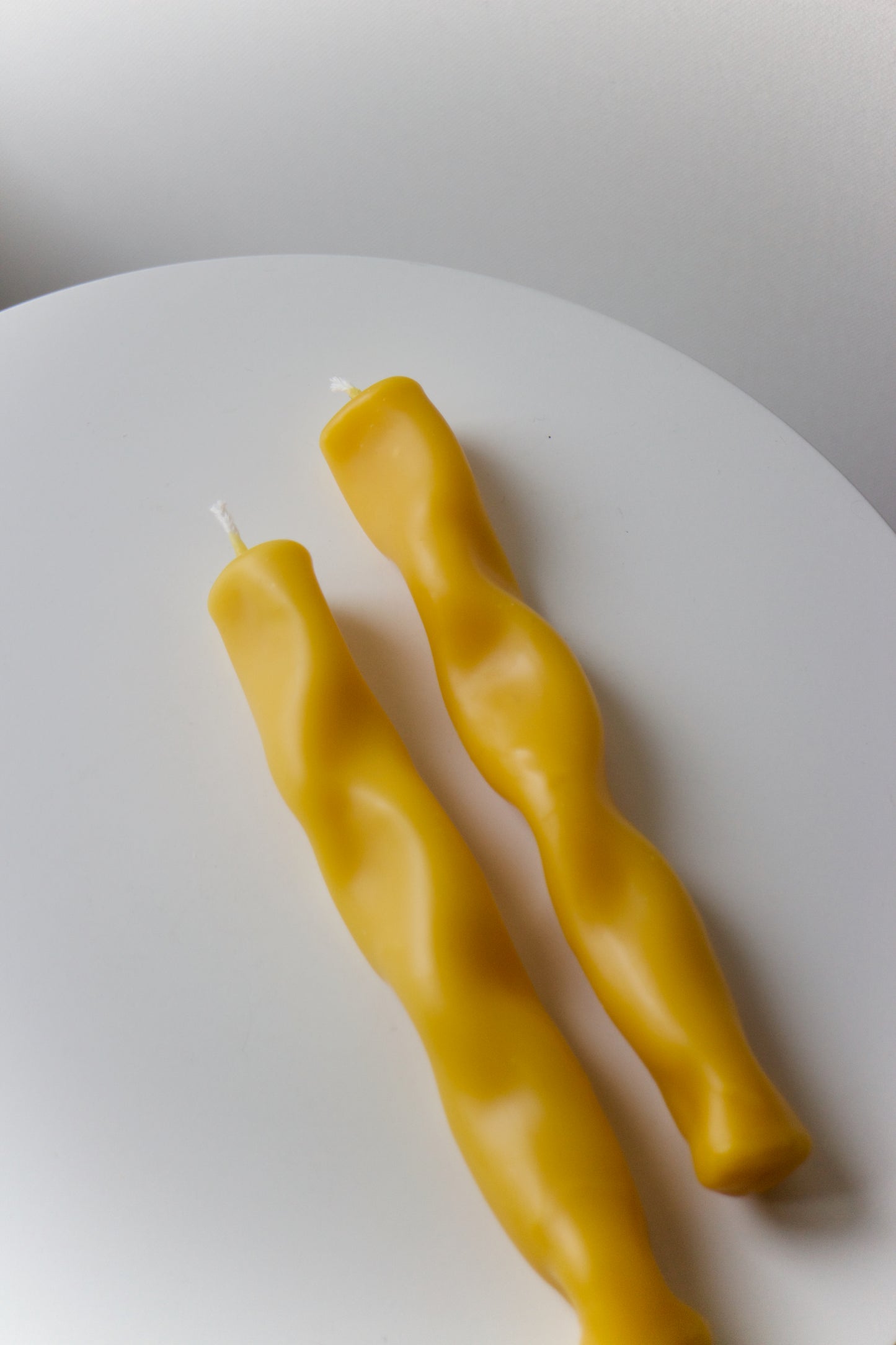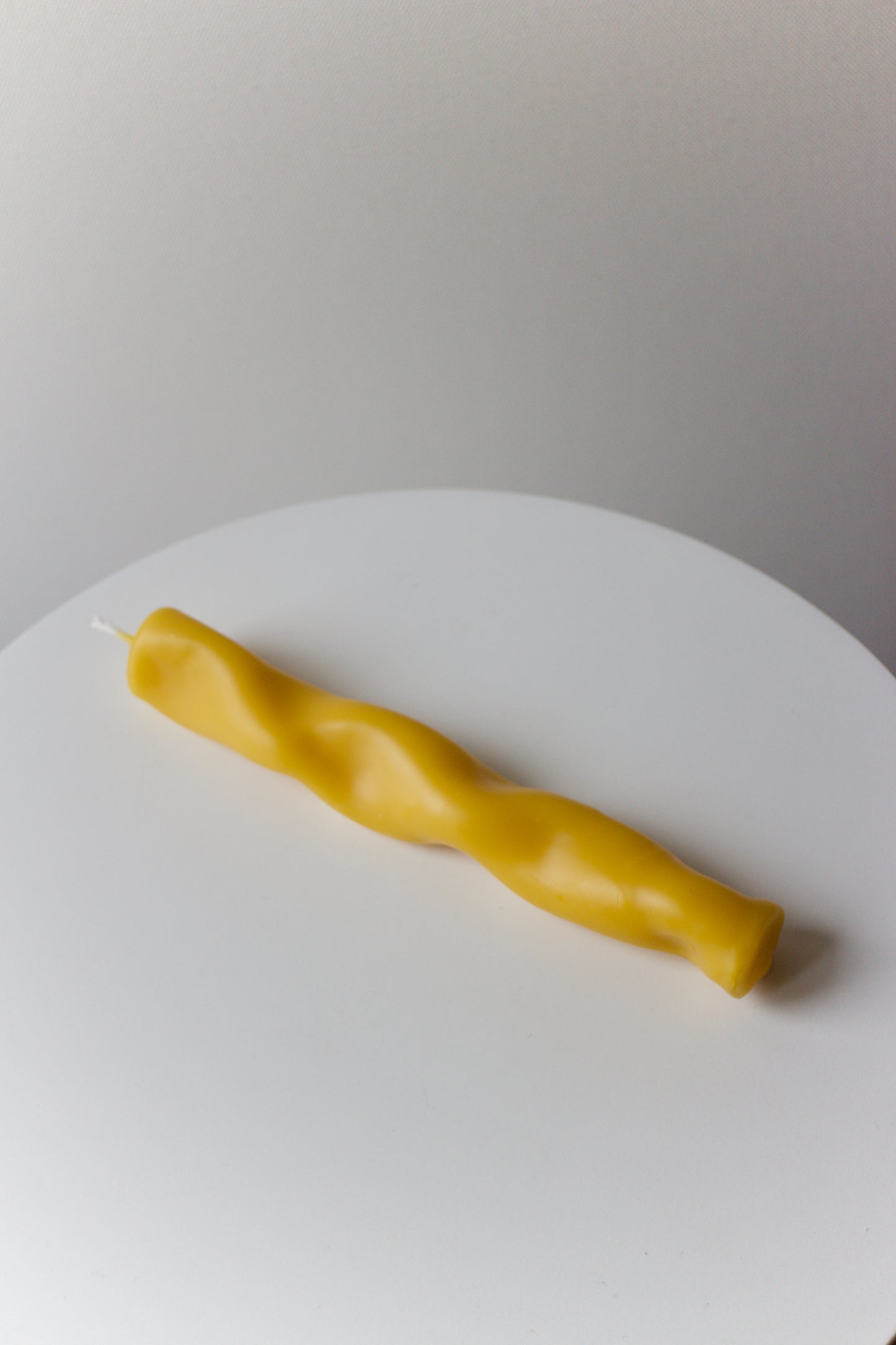 MADE TO ORDER

Each ZENZI Objects candle is individually made to order, therefore production can take 4 working days. 




For more information or if we can help you in any way, please email info@zenziobjects.com.

LEARN MORE ABOUT THE WAXES WE USE

The quality and origin of the waxes are important to us: Only high-quality, natural waxes are used for the candles. Both the yellow and the white waxes are pure, unadulterated beeswaxes. These are cleaned and pastilled from different harvest regions here in Europe, being produced in candle quality according to RAL.




A warm, natural yellow characterises the yellow beeswax used for the candles and features its typical honey scent. For those who prefer plainer wax colours, we also offer candles made of bleached white beeswax. 

Click here

CANDLE CARE & SAFETY

To ensure a safe and pleasant burning experience, please follow these safety and care instructions when burning the candle. Labelling of candles according to EN 15494:

– Never leave a burning candle unattended.

– Keep away from things that can catch fire.

– Keep away from children and pets.

– Use a heat resistant candleholder.

– Keep candles at least 10 cm apart.

– Do not burn in a draught.

– Do not place near a heat source.

– Place candle upright.

– Trim wick to 1 cm.

– Snuff out the flame. Do not blow it out.

– Keep the liquid wax and wax pool free from matches and debris.

– Do not move a burning candle.

– Never use liquid to extinguish.

– Use suitable containers for liquefying candles.

– Remove packaging before use.

– Trim edge if higher than 1 cm.

Additional instructions:

– Ventilate the room after use.

– Avoid direct inhalation of any smoke.

Contact: info@zenziobjects.com

SHIPPING & RETURNS

As we are a small business, please allow a processing time of 3-5 business days after receiving your order (excluding public holidays in Germany).




Germany: 4.99 EUR (avg. delivery time 2-4 business days)
EU countries: 13.99 EUR (avg. delivery time 2-8 business days)
Switzerland: 19.99 EUR (avg. delivery time 3-8 business days)




If you wish to return an item, please note that return shipping costs are not covered by us. Please read the product descriptions carefully before placing your order. 

More info here